Three cheers for "bikablo posters"! by Martin Haussmann from Bikablo
Posted by JAYA MACHET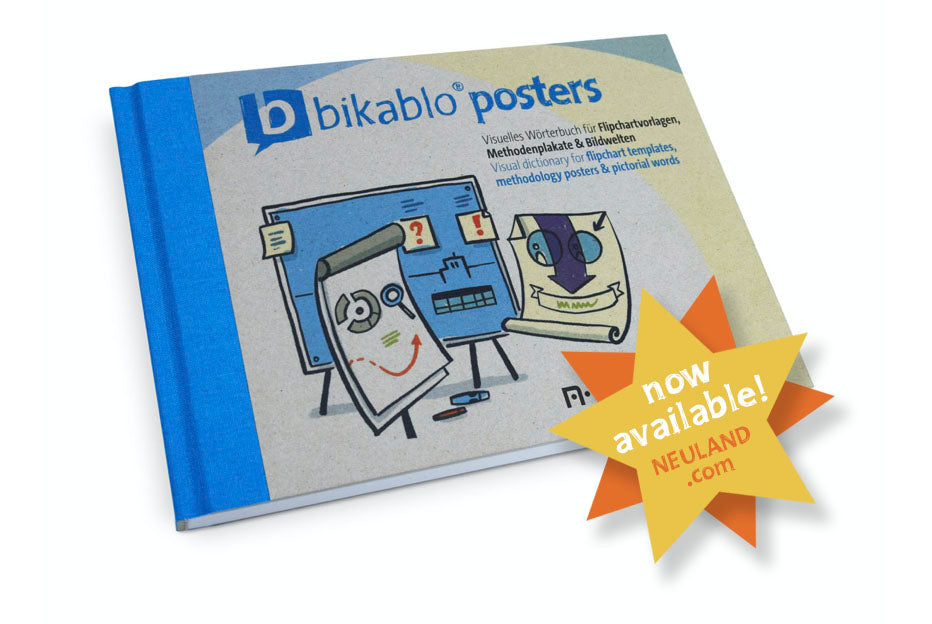 bikablo posters is finally on sale! It features flipchart templates, methodology posters and pictorial worlds for Visual Facilitators, Graphic Recorders and Visual Storytellers.
Wow – we are happy and proud we finally made it! This is the most sophisticated book on visual templates we ever conceived: With concepts and ideas from the world-wide visual practitioner community, bikablo posters brings to you 130 ready-to-use poster templates and a quick visualization training on paper – The book was developed and designed by the bikablo core team members Martin Haussmann, Julie Junginger and Stefan Böker and carries the whole experience of our trainer and alumni community who shared their designs and concepts.
bikablo posters –
 

what do the masterminds of the visual practitioner community say?

"bikablo posters is a three-in-one treasure: Plenty of specific tips to boost your control and confidence. Loads of diagrams and visual metaphors ready to adapt to your next meeting. And a systematic and strategic approach to carry throughout your visual facilitation career. Three cheers to team bikablo for this invaluable resource!"

Brandy Agerbeck, Graphic Facilitator, trainer and author of The Graphic Facilitator's Guide and The Idea Shapers
---
"If you have any resistance to being visual with your virtual or in-room charting this book will get you over it. The simple, clear, and evocative graphics that Bikablo is known for are applied to job of creating title slides, wall posters, large visual maps and all the icons and delightful word graphics that accompany them. Sample applications are especially helpful. Bravo! This book is a keeper."
David Sibbet,  founder/CEO of The Grove Consultants International and author of Visual Teams, Visual Meetings and many others
---
"In this wonderful book, Bikablo has single-handedly resurrected the historic hero of visual explanation: the POSTER. When I began my career in visual communications forty years ago, the poster was the pinnacle of the information designer's art. Big, colorful, and clear, a great poster evoked the viewer's emotion and compelled their cognitive understanding. Bikablo now delightfully brings back the sheer visual scale of the poster for a whole new generation of visual trainers, learners, and professionals. As Bikablo reminds us, when you have a big message to deliver, think BIG. Think POSTER."
Dan Roam,  International bestselling author of of The Back of the Napkin, Show & Tell and Draw to Win
Chapter one contains the most important 
12 tips for flipchart design.
 With basics such as "drawing a clean line", a short training in penmanship and the use of different color techniques, here is a 24-page visualization basic course.
For the next chapter, we took a tour through the "flipchart classics" of a typical meeting or training session, from the welcome flip to the evaluation poster, and designed fresh, easy-to-use templates.
Chapter 3 collects the 10 best picture posters from our work (mountain, balloon, iceberg and so on) as elementary templates and gives different examples of use.
This is followed by a revised instruction from our bestseller "UZMO – Thinking with your Pen" on the design and development of work posters and our favorite chapter "Method templates".
The crowning glory are 10 new templates for pictorial worlds. Here, we have developed well-known and unusual image metaphors for visual storytelling and graphic recording. Have you ever had a strategy meeting at the North Pole? Or a 360-degree feedback from a satellite in earth orbit?
We are excited and grateful we can now share all this valuable ideas and concepts with you.
From Martin Haussmann Collection 2019 Sale 70% Off Title for image