Bikablo goes Online in Singapore!
Posted by JAYA MACHET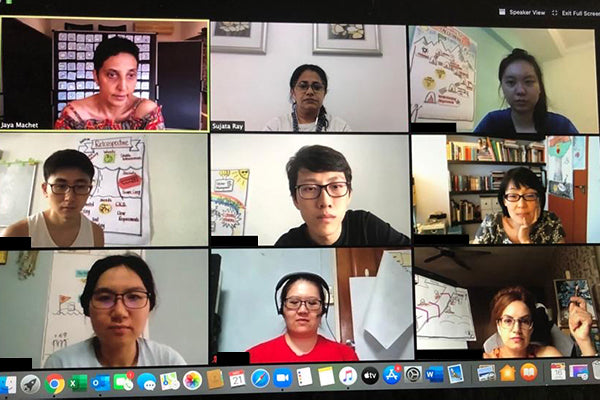 A week ago, I conducted my first  #remote Visual Facilitation Bikablo Basics workshop. At first I was very reluctant to run this program online because I thought that it would difficult to transfer the unique Bikablo technique remotely.
Since the participants who had signed on for a face to face program were keen to have the session, I started planning, reviewing online platforms and ordering the equipment needed to show close ups of the various steps in the Bikablo process. 
We then made special kits of materials the participants would need for the 2 day program. This included coloured markers, ink, pastels chalk, flip chart paper, A4 sheets, pin-it sheets, blue tac and of course the Bikablo gift kit which included 2 booklets and 4 markers.  
Two days before the program in the Tech check we ironed out any technical issues and other logistics like a wall or door for them to put up their flip chart paper and position of their laptop. 
Many times during the training, I wished I could have been next to the participants holding their hand to teach them the right way to hold the marker to get the proper shadow. The participants were able to learn the technique after I showed it close up under the camera. So I used this method for re-iteration and  whenever any clarification was needed.
Though I started off being very worried how it would go, at the end of the program I was delighted that I was able to transfer the Bikablo technique to the participants.
The participants were engaged and enthusiastic throughout the 2 days. The final posters of the participants reflected that they had taken on board the knowledge and could "speak" the Bikablo visual language. At the end everyone felt  "Yes - I can draw" as promised by Bikablo. 
In the light of this Circuit Breaker the participants were happy to break the monotony and spend two days with new faces, make new friends and learn a technique that was fun, colourful and will be an asset in their workplace. 
Thanks to this program I can confidently say that learning Bikablo online is a great experience and a definite value for money.
We are offering early bird prices so don't miss out.
Written by
Jaya Machet
Jaya Machet is an Executive coach, Visual & Business Story Powered Communication Facilitator. She helps humanise the workplace through meaningful communication. Collection 2019 Sale 70% Off Title for image